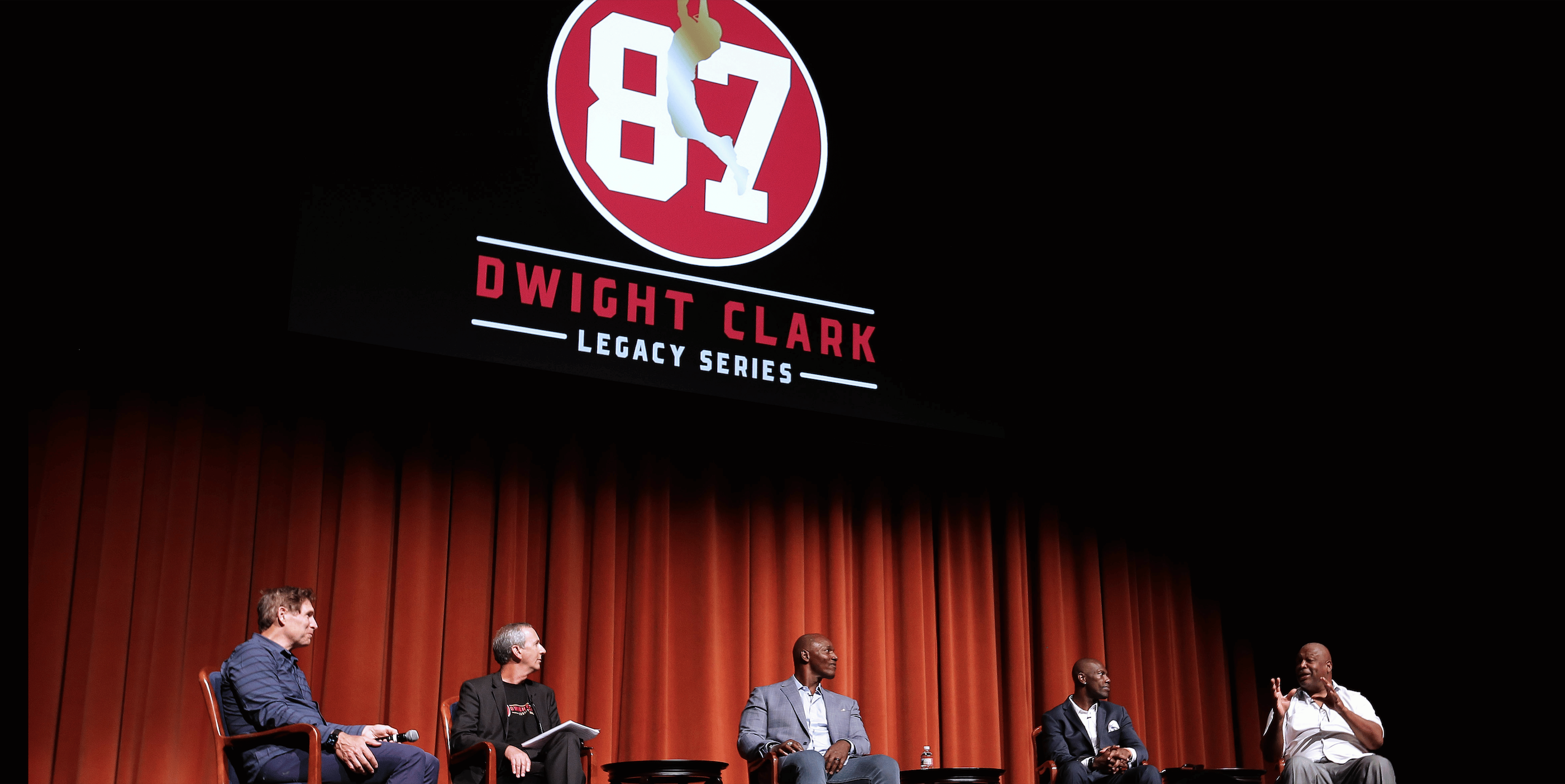 2022 Dwight Clark Legacy Series
Defensive lineman Arik Armstead, the recipient of this year's Dwight Clark Award, highlighted one of Clark's other attributes. Armstead used the term "glue guy" to describe D.C.'s ability to keep everyone together and pulling in the same direction.
Armstead, a native of Sacramento, expressed his gratitude for the honor in front of a packed crowd on June 1, 2022 at the Lesher Center for the Arts in Walnut Creek.
"I'm humbled to be mentioned even in the same breath as the legendary Dwight Clark," Armstead said.
The theme of the program was a night with Pro Football Hall of Famers. The evening concluded with Charles Haley, Terrell Owens, Steve Young and Bryant Young sharing laughs and poignant moments as part of a memorable panel discussion.
The group welcomed Bryant Young into the prestigious club. Young will be inducted in August as part of the Class of 2022 during the enshrinement weekend in Canton, Ohio.
The third annual event in the Dwight Clark Legacy Series raised more than $150,000 for the Golden Heart Fund, the non-profit organization that Clark singled out as his charity of choice before his passing on June 4, 2018.
The evening began with a lively VIP discussion inside the Bedford Gallery. Brian Murphy and Paul McCaffrey of KNBR co-hosted the event, which featured discussions with Dwaine Board, Junior Bryant, Kevin Gogan, and Gary Plummer.
When the main program began inside the Hofmann Theatre, 49ers general manager John Lynch took the stage to participate in a Q&A session on the state of the franchise with Laura Britt and Matt Maiocco of NBC Sports Bay Area.
Killjan Anderson, the executive director of the Golden Heart Fund, explained the mission of the organization before former star linebacker Patrick Willis presented the award to Armstead.
"This is a full-circle moment for me," Armstead said. "I've only been to one NFL game before I played in the NFL and it was a 49ers-Seahawks game. The only thing I remember from that game is Patrick Willis must've had 20 tackles that day. He made every play on the field, and I've been a fan of his since then."
The success of the event was made possible through the generous sponsorships of the San Francisco 49ers, Candy and Eddie DeBartolo, Tracy Toyota, Sunshine Design, Devcon, HGGC, Christie's International Real Estate, Lesher Foundation, The Ring Family Foundation, Agatha and Stephen Luczo.
All photographs below by Austin Ginn