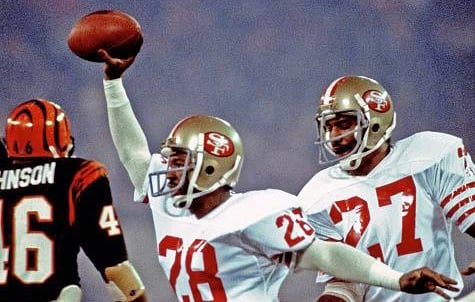 Love & Dedication: Ms. Bettye & Lynn Thomas
Former defensive back Lynn Thomas played two seasons (1981-82) with the 49ers and made a significant impact. During Super Bowl XVI, Thomas made a fumble recovery that helped the 49ers secure a 26-21 victory against the Cincinnati Bengals. Although this Super Bowl was a fond memory for Thomas, "he was grateful to have made lifelong friendships while on the 49ers, that turned into family" stated his wife, Bettye.
Thomas was a fifth-round selection by the Niners in 1981, where he joined fellow rookie defensive backs Ronnie Lott, Eric Wright, and Carlton Williamson. Bettye described Thomas' friendship with the group as more like family, and the bond they held went beyond football.
Several years after Thomas' football career ended the couple began to experience hard times…as do many retired players. Thomas turned to his family for assistance; in this case, his family included his former team, and teammate Lott -- who connected them to The Golden Heart Fund. Bettye and her husband were awarded several grants from The Golden Heart Fund. said Bettye while quoting not only her husband but also her own experience.
In April 2021, Thomas passed, and Bettye found herself grieving her beloved husband and figuring out his burial arrangements. Knowing that the Niners were family, she reached out to her husband's old teammate, Lott, who once again connected her with The Golden Heart Fund. The fund assisted by covering many of the costs.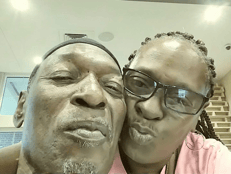 Years later, Thomas was diagnosed with cancer, resulting in both legs needing amputation, however, Bettye said that did not change him. Lynn was still the same comical person; their love never depleted but grew throughout the years. Thomas still made gestures to show his love, including reaching out to his old friend and teammate, Lott, for tickets to a game. Lynn and Bettye were flown out and watched a 49er game. A dream for Bettye came true through the efforts of Thomas, his former teammates, and his former team. She found joy in seeing players, alumni, and their families all joined together. "That day was wonderful, and everyone was like family," emphasized Bettye. Her fondest memory is when Lott lifted Thomas over the railing that separates the stands from the field and brought Thomas onto the sidelines.
Today, Bettye is at ease knowing her husband is at rest, and she is in a beautiful home where she can raise her godchild. She attributes her stability to The Golden Heart Fund and the 49ers family assistance in this process.